Hopes and Fears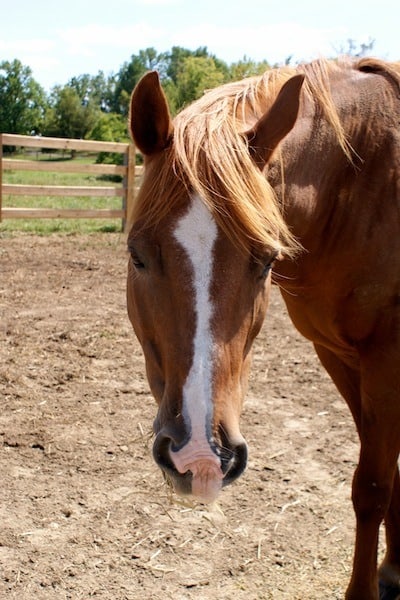 by Elisha McCulloh
It's all new: this ranch, this ministry, this blog, this stage of my life. New to me and new to my family. New for our community, to the people I know and the people yet to be known. Exciting, challenging, sometimes frustrating, a bit frightening, frequently humbling, and definitely an opportunity for growth. So many opportunities to learn and change and grow!
I like that. "This life is for repentance, don't waste it on vain pursuits." – St. Isaac of Syria. One of my favorite quotes. The way I understand repentance involves ever turning toward God instead of away from Him. Becoming more like Him, we who were all made in His image. I want to do that. I frequently forget what's important. This ministry seems inclined to provide daily reminders.
One of our board members, Maria Weir, asked me recently something about my fears regarding the horses we will rescue. My answer apparently surprised her and she indicated that she would like to know (and read on this blog) more about things like that. About what we (Nicole and I especially, as we are the most intensely involved in the daily work required to get this ranch ready for horses and people to start arriving) are thinking, feeling and experiencing. Her words affirmed something I had been pondering: that people might actually want to read things like that, not just newsy reports of the work involved at each stage of this ministry, but of how we think and feel as we do this work.
So what are my hopes and fears? I'll start with fears so that I might end with a positive focus on hope.
I don't tend to be a worrier about things I can't control. Instead, my fears generally involve my own inadequacies: will I be or have "enough" for the responsibilities I take on? Enough skills, intelligence, strength, patience and determination to do my part? And most importantly, will I love enough? This is a biggy. Learning what true, active love means has been a major theme and my most intense focus over the past couple of years because I've finally begun to realize how much I need and want to learn and grow in this essential work. And it is work, this loving of others thru actions. M. Scott Peck defines love as: "the will to extend oneself for the purpose of nurturing one's own or another's spiritual growth." Extending oneself; not just feeling warm and fuzzy toward others. I'm not gonna feel warm and fuzzy at all times toward every person and horse that comes to the ranch. I'm pretty sure.
I read Hope Rising by Kim Meeder shortly after we moved to the country in November of 2001. Kim gets this love thing. Her stories in that book and its sequel, Bridge Called Hope, were some of the most inspiring and challenging contemporary true stories in the area of genuinely loving others that I had read.  Nicole and I have met Kim and her husband, Troy, founders of Crystal Peaks Youth Ranch (CPYR) in Oregon, after which we are modeling Achaius Ranch. She's really that authentically loving (they both are). Also they're amazingly humble and full of faith. And with their excellent leadership, the whole ethos of CPYR exudes love and faith. I want to allow God to spread that kind of intense, authentic love and faith thru me and throughout all we do at Achaius Ranch. I fear I will fall short. Actually, I'm certain I will. Instead of letting myself dwell on my inadequacies every time they become painfully obvious to me, I try to quickly shift from worry to prayer because I can't do any of it without God's grace. Lord have mercy.
Another way I address these fears is to use the moments when my various inadequacies threaten to thwart me as reminders and motivation to work hard. If I'm going to know enough to help others learn about horses, for example, then I need to keep learning and to spend more time interacting with the horses, not just building fences and working on the business aspects of the ranch, etc. And if I'm going to do a good job with the business aspects of the ranch, I need to keep learning and working on those tasks, not just doing the fun stuff. I tend to react initially to challenges with knee-jerk insecurities and reluctance to tackle anything unfamiliar. I know after I get past that reaction, generally I am able to get the job done or find someone that can help. "Courage is being scared to death but saddling up anyway." – John Wayne. I need to remember this earlier in the process so that I can minimize my reactivity because it wastes a lot of energy (and I realize that my feelings of inadequacy are really just a subtle form of pride).
What are my hopes for the ranch? My most important hope is that many lives will be positively impacted. Those of children who come for the sessions, their families and/or others who bring them to the sessions, volunteers who come to serve, people who might read or hear about what we're doing, and of course, the horses we rescue. That we find "the right" horses for the program (for the kids). That we'll be able, with the help of God and many people, to bring healing and a sense of peace, security and love to people and horses that might have endured hardships and pain. I hope it all actually "works." That we can get the pieces properly in place. That enough volunteers will actually appear. That funding will be adequate. That the facilities will suffice. That we can manage it all and not mess it up in any of a number of possible ways!
I hope that we'll be faithful to work hard and not leave anything to chance while simultaneously trusting God and not trying to control things that aren't ours to control.
And I hope you will pray for Achaius Ranch. Your support is crucial to this ministry. Thank you!