2022 SUMMER HARMONY PROGRAM – What you need to know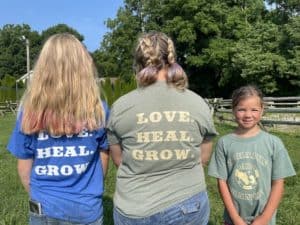 This year we are moving further along the path of developing evidence-based programs for our community, to facilitate healing and growth, through the grace and power of Jesus Christ. Members of our leadership team, who will soon be Certified Horsework Facilitators, are mapping out our Harmony Program for this summer. While these sessions will look familiar to those who have participated over the years, it will look very different from our 2021 Harmony Project summer program. We want you to be aware of these changes and the reasons for them as you consider whether or not to sign your child(ren) up.
From 2013 – 2019, we provided 90-minute sessions for children 8-18. In 2021, thanks to a grant from the Montgomery County Community Foundation, as part of our Harmony Project we experimented with 3-hour sessions to add non-equine activities such as music & rhythm. While the 2021 summer program was a complete success, after much consideration our leadership team has decided to focus this year evidence-based equine-assisted learning experiences, which Achaius Ranch is in a unique position to offer. Therefore we want to provide you with some important details about what you can expect from our Harmony Program this summer:
Our session schedule will look more like our original program:

Sessions are offered Mon, Tues, Wed, and Thur mornings.
Parents can choose from these two options: 9:00-10:15 or 10:45-noon.
Since sessions are shorter, parents will have the option of either dropping kids off or staying on-site during sessions. (Check with me for any questions about this.)
Participants will be scheduled for the same day/time slot for 8 weeks (June 6-July 28).
Sessions are for participants ages 8-18.
Each participant will be assigned a leader to work one-on-one with him/her.

The non-equine activities, such as music/rhythm, that we offered last summer will not be included in our summer program this year.
Like last summer, each session will begin with an opening prayer and a brief message to help us focus, followed by working together on a chore (10-15 minutes). The equine activities will last for the remainder of the session (approx. 55 minutes).
IMPORTANT! Our equine activities will no longer focus on teaching horsemanship and riding skills. Instead we will lead the youth in a range of equine-assisted learning activities on the ground. In addition, we will have a mounted portion at the end of each session (so long as conditions permit), which will provide bilateral stimulation to aid the rider in processing what they have experienced in the learning activity, while talking one-on-one with their leader. The horses/riders will be led at a walk to provide this important processing opportunity. While we believe that youth will very much enjoy the activities this summer, we realize that those who are looking for a riding lesson may find this change disappointing. However, as a Christian ministry, with a leadership team committed to offering the most beneficial experiences we are able, in line with our mission statement*, we continue to advance our programs as we increase our knowledge, experience, and resources. If you and/or your child(ren) are looking for riding lessons instead of what we are offering this year, you will want to get them signed up for those at another facility. To clarify: we deeply believe that all the activities we have provided in our youth program over the years have been beneficial and worthwhile. There are many reasons why we are making this shift now, and I would be happy to discuss this with you. Please feel free to contact me with any questions or concerns. You can reach me by email elisha@achaiusranch.org or text message (765) 376-9535, or leave a voicemail and I will return your call.
What we are offering this summer (8 weekly sessions) is valued at $600 per participant. Thanks to another grant from the MCCF, and the generosity of our donors, we are pleased, once again, to offer this experience to your child(ren) free of charge. Any donations that we receive from parents who can contribute will help us to continue building our programs so that we may serve more people in our community. As the need for this kind of opportunity continues to grow, we strive to increase our capacity and positive impact.
If, after contemplating this info and discussing it with your family, you would like to sign up one or more children, please respond to this email to be added to our list and provide the name and age of each child. Each year we have more and more children wanting to participate so please be sure to respond without delay.
*Our mission statement: Achaius Ranch exists to nurture healing and growth through the interaction of people with horses in a Christ-centered environment.