A few weeks ago, we were delighted to bring home our second Standarbred gelding, retired from racing days and in need of a new life and a loving home.
The herd gathered, eager to meet their new friend, as we unloaded "the new guy" from the trailer.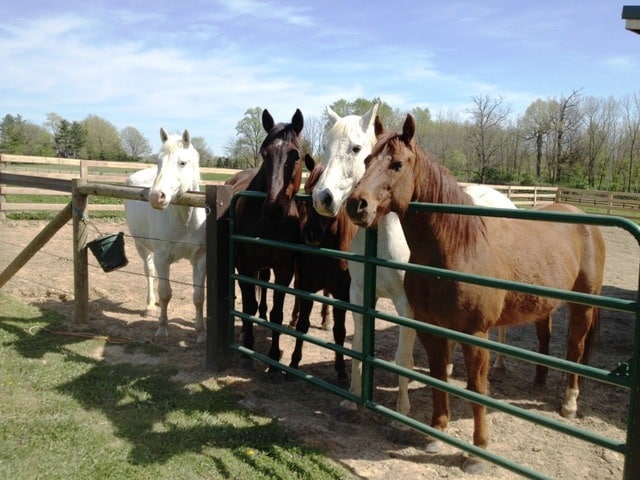 We adopted Sparky, 16 years old and approximately 15.2 hands, from New Vocations, an organization that finds homes and new lives for retired Standardbred race horses. It was a pleasure to meet Founder and Executive Director, Dot Morgan, her husband, their adorable Corgi and a few of the horses currently dwelling in their lovely setting near Marysville, Ohio.
Dot told us that Sparky is an awesome horse, wonderful with kids, and a favorite of those who have cared for him since his racing days. In fact, his recent owner loved him very much but was sadly unable to continue adequately caring for him. So he arrived slightly underweight, which we're adressing.
We're enjoying getting to know Sparky. It's fascinating to learn each horse's personality (or horsenality), how they respond to us and each other, their particular strengths, idiosyncrasies, and fears. Although Sparky is similar to Patrick in breeding, color, and readiness for interaction with children, his horsenality is proving to be quite different. Whereas Patrick is quite responsive and eager to please, Sparky takes a bit more convincing to move when he doesn't feel inclined and his main fear is of being separated from the herd. Both horses are very sweet, handsome guys and we're really looking forward to bringing kids here to play with them very soon!
Welcome home, Sparky! You're a great addition to Achaius Ranch!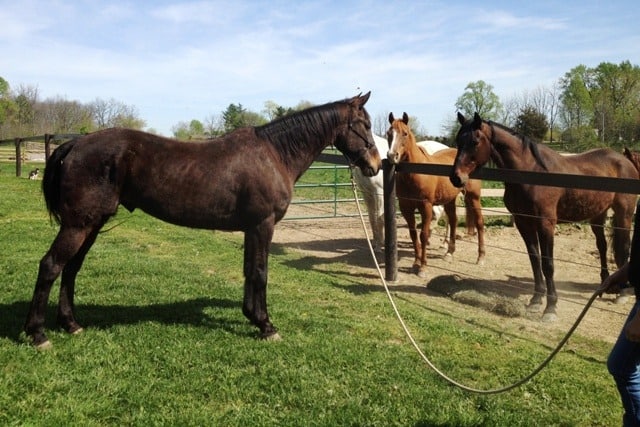 In other news: Be sure to take a good look around the new website. Thanks, Sam Wilson, for the awesome new design! (And check back for more changes as we fill in the info on some of the pages.)
Also: very soon we will begin scheduling kids to come to the ranch starting in June! Watch for a blog post with details.