Last week was our most exciting week so far on the ranch. We are thrilled to announce that all the hard work we've done (so far) preparing the place has paid off: we have brought home our first two rescue horses!
On a steamy morning, the hottest week of the year, Nicole and I, along with our friends Donna and Monica, drove about four hours to a place where rescued horses await new homes. We drove two trucks, each pulling a trailer, prepared to bring home several horses at risk for being euthanized if homes aren't found in time. The horses we went to see are among the last of a sizable herd seized from a breeder that had severely neglected and abused them. Fortunately, all these horses have been brought back to health and most of them have found loving homes beyond the rescue facility. The small group remaining have reached the end of their five year allotment of time on that ranch and per their policy, must be placed or else euthanized.
Although we were willing to take more, we came home with just two (at this time), Sadie and Eva, because in the end, that was what we could safely manage with confidence. All of the horses at this rescue are treated with great care and love, but so many pass through those gates that there simply aren't enough hours and resources to devote to training them. Therefore, nearly everything we do with these two horses (even trailer loading and standing to have their feet trimmed) will be a learning process. In order to put more than one horse in each of the trailers, we would have had to be able to load the first one and have it stand and wait calmly until additional horses were loaded. After working patiently in the hot sun for several hours, trying to accelerate a process that is better accomplished under far more ideal circumstances (better weather and the ability to "take the time it takes") we finally realized that this was just not a realistic option in this situation. So we loaded one horse in each trailer, allowing them to ride free and unrestrained (thus soothing the natural equine claustrophobic nature), and brought them home calmly, safely, and without incident. As you can see below, they unloaded with no problems at all.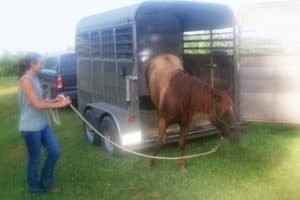 Despite having endured starvation, beatings, and extremely unpleasant, unhealthy living conditions in their past, Eva and Sadie seem to be rather calm, confident horses. Each of these sweet mares have multiple scars and we'll never know the full story of how they suffered each injury, but the scars, instead of diminishing their beauty will serve as constant reminders for us to always treat them with love, respect and patience.
(By the way, the reason that picture of unloading Eva has that "dream-like effect" is because it was so extremely hot that day and the camera had just come out of the air conditioned truck – it fogged up but we didn't want to miss getting a picture of that moment!)
After letting Eva and Sadie get used to the new paddock for 24 hours, since they're healthy and didn't need to be quarantined Nicole was able to introduce them to our horses, Keva and Storm, who live here with us on the property.
(In case you're wondering, those are fly masks on Storm and Keva. Horses can see through them but it keeps the flies from pestering their eyes. Eva and Sadie have already gotten used to their new fly masks as well and almost seem eager for us to put them on each morning.)
It took about 24 hours for them to work out their ranks and accept each other but now they are one peaceful happy herd.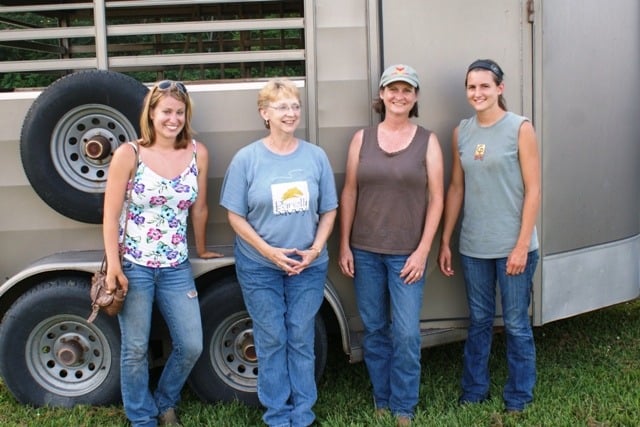 Our husbands and some of our wonderful "horse friends" were waiting for us when we arrived home with the horses. Two of our board members even brought a celebratory dinner for us to share (thank you Maria and Fr. Joel!)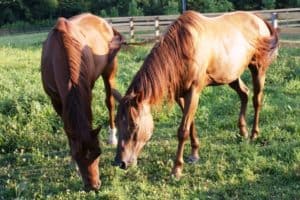 We all enjoyed watching Eva and Sadie explore their new home as the sun set on a challenging but successful, blessed day.
You may wonder what will happen to the horses we were not able to bring home that day. We're not sure but we feel hopeful that the rescue, which has many contacts, will be able to find them all homes. We are considering whether or not we can manage to take one more. On the other hand, there are so many horses out there that haven't even made it as far as a rescue facility; we don't want to immediately "max out" our limited resources now at the very beginning of our journey at Achaius Ranch. We have received many phone calls in the two weeks since we mailed our announcement letter to sheriffs departments, vet clinics and other rescues, letting them know who we are.
There are a lot of horses out there needing a new home. Many of the horses we get calls about don't fit our criteria, thank goodness (they haven't been abused or neglected – just need a new home) but far too many do. If you are able to help, anything you can do will be a blessing, from much-needed prayer to donations of all kinds to adopting a horse yourself, if you're in a position to do so. If you would like for us to help you find a way to contribute, please contact us.
P.S. Special thanks to Donna for bringing her trailer on this adventure! It was great to have you with us!