Nicole Passes Parelli Level 3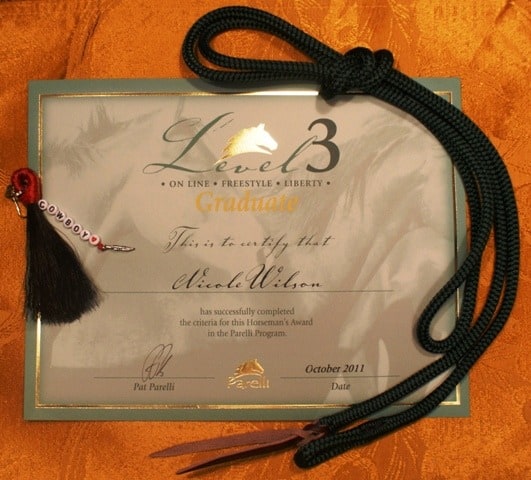 We're very pleased to announce that Nicole Wilson, Ranch Manager and Horse Trainer (among other roles) here at Achaius Ranch, has recently passed Level 3 in the Parelli horsemanship training program! Nicole has written a blog post all about this accomplishment and what it means here on her personal blog, which she calls Fresh Air. It is a blog about her experience with life on the ranch. There are pictures and videos in the post as well.
Below is Nicole's certificate, along with the green "savvy string" the Parelli program sends as a sort of reward and designation of the accomplishment. The charm on the left is something that was made for Nicole when her beloved horse, Cowboy, passed away in November of 2010. It was made with hair from his tail. The blog post mentioned above explains Cowboy's important role in this accomplishment. If you read that post, you'll understand why I've included the charm in this picture.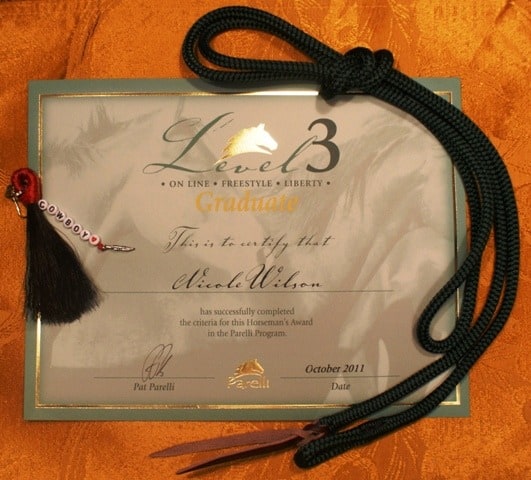 We're very proud of Nicole and all the hard work and time she has, and continues to put into learning to better understand, relate to, and care for horses. I'm sure she would agree that horsemanship is a learning process that never will be fully completed, and one which she enjoys and values above anything she's ever learned in a classroom or from a text book. 😀