Recently our farrier surprised us with a very generous offer to provide his services to our rescue horses free of charge! This is a very big deal because taking good care of a horse's feet is not only crucial to its overall health, but paying for simply the most basic of farrier services constitutes approximately one-fourth of the total cost to provide necessities for our equine friends.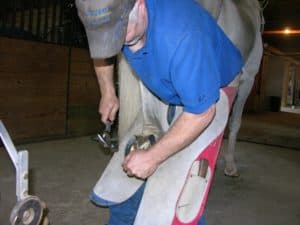 And Hank Highfield of Highfield Farrier Service in Ladoga, Indiana, CJF (Certified Journeyman Farrier) and Lifetime member of the IFA (Indiana Farriers Association), is not just any farrier. Hank was selected as one of three farriers to judge the 2012 American Farriers Association National Competition in Mobile, Alabama. He was on the AFT (American Farriers Team) in 2003, 2004 and 2005. He has judged the Indiana Farriers Contest and the Shrine Contest. He was Top 10 and Rookie of the Year at the World Championship Blacksmiths Competition in Calgary, Canada in 2003 and has won numerous other state competitions.
Furthermore, he's a great guy. Hank has taken good care of our horses for several years and is quick to help whenever we need him. He has a very busy practice, yet he is willing to help Achaius Ranch in our efforts to take care of horses in need of special care.
You can read more about Hank on his website.
We are so thankful to have Hank on our team and fortunate that he lives nearby! Thanks, Hank, and thanks to your whole family for this very generous sacrifice of precious time, skills and energy!
Hank can be contacted at collegeforge@yahoo.com or (317) 513-1028.